Garage 2 (G2)
---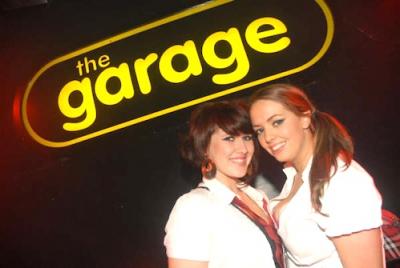 Address
474 Sauchiehall Street
Glasgow
Scotland
G2 3LW
Phone :
Other Venues
To truly understand what Glasgow's all about and where most people go for an astounding night out you need to visit the renowned, and nationally celebrated, Garage Nightclub!
We're Scotland's biggest club open 7 days a week 365 days a year. After 15 years of tomfoolery, shenanigans and hootenannies we've done our homework, passed the tests and been voted head of the class on more than one occasion!
Featuring a superstar DJ roster that each night will expertly mix up the best in new music to create a soundclash unheard of in any other Glasgow establishment! Over the years We have established a substantial following and are unrivalled in our ability to deliver memorable nights out.
From Indie and Alternative Rock to R'n'B, Chart, Pop, US Billboard toppers and the Ultimate Guitar music split over 5 incredible rooms (click here to view), we've got it all under one, giant, friendly roof.
Rather Interesting Facts About The Garage
The Artist Formerly Known As...
PRINCE helped launch the Garage 15 years ago when he played a secret gig after his sell out stadium show. A packed club was treated to a greatest hits set. Prince was then called "The Artist Formerly Known As" at the time and asked that no one looked at him. What would happen if you did is anyone's guess.
Live music launch-pad...
The Garage is a stepping-stone for bands that are making their way up to the big time. Kasabian, Pulp, Travis, FLC, Faith No More and Biffy Clyro have all played at the Garage on their way to the top while legends such as Ian Dury, The Pretenders, The Proclaimers and Roger Taylor have all appeared over the years.
Rolferoo's Favourite Venue!...
It's Rolf Harris' favourite venue! Student favourite Rolf has played to a sell out Garage four times and he loves it. He is treated like a God by his adoring public and sits for up to 2 ½ hours after each show signing and drawing for fans. He even signed one eager fan's enormously disproportionate boob.
Aftershow & VIP Heaven...
The Garage is a favourite venue for aftershow parties. The likes of The Strokes, Him, The Darkness, 36 Crazyfists, Queens of the Stone Age, Lostprophets, Sum 41, You Me At Six, Nickelback and FLC have all enjoyed Donald MacLeod's infamous hospitality. Some American bands have even added Aftershock to their rider; they got a taste for it after Donald poured it down their necks in vast quantities!
Blind Fury….(on the dancefloor)
Legendary guitarist Jeff Healey played the Garage in 1999. Despite being blind (and blind drunk) he sneaked away from the aftershow party down in the dressing rooms and made his way unaided to the main hall where he danced all night. We still don't know how he managed it, it's a bit of a trek and the club was very, very busy!
I'm a Celebrity – Let Me Sing Karaoke!
The Garage's karaoke room has proved a massive hit with the strangest of people. Andrew WK and his band, real hardcore rock types, wouldn't get off the mic. Their favourite song? "Daniel" by Elton John. Michelle McManus also regularly belts out a tune and puts everyone else to shame… and most recently Troy from Queens of the Stone Age even got up to sing as well!
Celeb DJs
Ever wondered who has graced the wheels of steel in your favourite club? Well here's some that we can remember…
The legend that is John Peel
Fun Lovin' Criminals
Steve Lamacq (Radio 1)
Futureheads
CSS
Mani (Ex Stone Roses/Primal Scream)
Bloc Party & your very own Garage DJ line-up
IMPORTANT : if venue information has been changed/needs updated then please contact craig@glasgowmusic.co.uk
Sorry, no Events have been posted for this month yet for Garage 2 (G2)
Comments: